01 02

03 04 05 15 16 19 20 21 22 23 24 25 26 27 28 31 32 33 34

to share some of her Christmas spirit! Be sure to check our her blog for lots of fun posts which she puts into fun categories like

Take That Martha Stew and

I'm Not Famous...Yet!

I know you will enjoy her as much as I do!!



Hello, my friends. Merry Christmas.
I would love to say thank you to Kristen for asking me to guest post this week while she is out of town with her hubby. I love her blog. It's like a soap opera only in a good way. I can't wait to read her stories about her and her hubby's adventures. I root for them every step of the way and wish them much happiness and the best Christmas.
Speaking of Christmas, I love it. It's my favorite time of year. The decorations, mass chaos, colored lights, music, food..etc. Love Love. Mine basically starts off with putting up the tree the weekend after Thanksgiving. Thank you family for not helping me this year..ha ha. No they were putting up the Christmas lights. Then the weekend before Christmas kicks off family celebrations. Both families get together to celebrate, but Christmas Eve kicks it off for the Alley family. I bake like a wild woman - cookies, pies, cake. Every year I try to incorporate something new. This year its "Kiss Pies" thank you Pinterest. Then Christmas morning is when the fun begins. There is nothing that compares to Christmas in a child's eyes. I can only imagine what my parents thought with our excitement and I think we get more excited than our son does. He wakes up to find Santa has been there. Tradition is Santa brings Ian's presents in special "Santa" paper. All presents under my tree are wrapped in a different paper, but Ian's presents have Santa Claus on them which means Santa has come because its in "Santa Paper" and he comes on Christmas Eve of course. Then we eat and eat and eat some more. But the most treasured tradition is our stockings. Growing up, our stockings were not filled on Christmas Eve. Our stockings were filled on New Year's Eve. That's when Santa headed back to the North Pole, stops buy and leaves you your last presents of the year. It is a tradition that has been in my family since I was a little girl and will continue on and I hope with my son as well. Of course, we will be on a ski trip so the stocking will come with us because Santa goes everywhere, right? Wink Wink...
I hope that this year has brought everyone much joy. I am so gracious for the friends I have made and thankful for this fun little Internet blogging world. I am inspired, humored, educated and grateful. I have found a little bit more of myself in this outlet of mine and I am so lucky to get to follow other people's journey's as well. Again, Happy Holidays to my sweet Kristen and to all of you! Oh, and Happy New Year too! I will think of you all as I am snow tubing down a mountain (probably on my face!).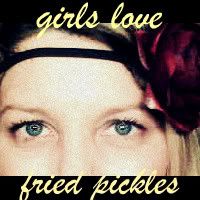 XO, Dusty, Girls Love Fried Pickles

35 36 37 38